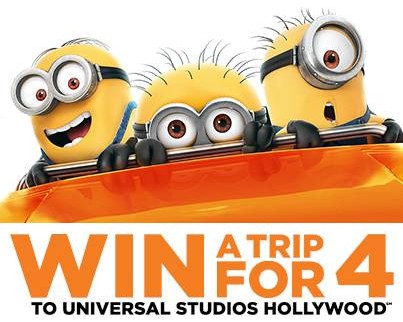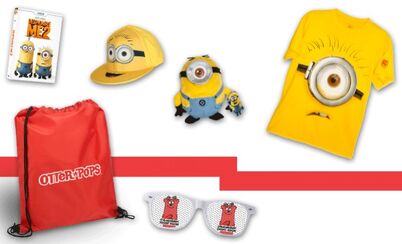 In celebration of Despicable Me: Minion Mayhem opening at Universal Studios Hollywood, Otter Pops is holding a sweepstakes with two grand prizes of a trip for 4 people, airfare and two nights' stay at the Sheraton Universal. If you live in the Los Angeles area, you get Annual Pass Tickets in place of the airfare. Daily prizes include 200 Despicable Me and Otter Pops products: a Despicable Me 2 Blu-ray, a DM baseball cap, a DM beanie (hat), a DM t-shirt and an Otter Pops Part Pack (Strawberry Short Kook sunglasses, Loui-Bloo Raspberry lip balm and more).
The primary way you get an entry code is to buy Otter Pops. If you get the codes from the Otter Pops package, you can enter up to 5 times per day. Earlier today, I saw a box of 100 of the one ounce ice pops on sale at a store for about $3.60.
The second way is to receive a code by e-mail. You do this by sending an e-mail to OtterPopsSweeps@brandmovers.com with a subject of "Otter Pops Sweepstakes" (without the quotes) and containing your name, date of birth and e-mail. It sounds like they won't retrieve your e-mail address from the header and you have to put it in the body of the message. Only one code is allowed per person/e-mail address.
It is open to residents of the United States and the District of Columbia, but not US territories like Puerto Rico. As with most sweepstakes, if you're employed by the companies participating in the sweepstakes or an immediate family member, you're not eligible. The sweepstakes runs from May 1, 2014 to January 31, 2015 in two phases. The "Grand Prize Period" runs from May 1, 2014 to August 31, 2014, with the prizes being awarded the following day or shortly thereafter. The Daily "Instant Win" prizes run from May 1 to January 31, 2015. Check the Official Rules for full details and the exact start and stop times for the days.
To enter, you have to go to the official website and register for an account.

For more information, go to the following pages:
Ad blocker interference detected!
Wikia is a free-to-use site that makes money from advertising. We have a modified experience for viewers using ad blockers

Wikia is not accessible if you've made further modifications. Remove the custom ad blocker rule(s) and the page will load as expected.