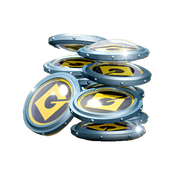 Tokens are a type of game currency used in the mobile game Minion Rush. They have the appearance of grey and yellow coins with Gru's emblem. Like Bananas, Tokens are used to purchase costumes, upgrade power-ups, and upgrade costumes.
Tokens can also be used to purchase Bananas, Golden Prize Pods, Banana Multiplier, and Score Multiplier and unlock/access locations. Usually, Tokens need to be purchased with cash, therefore they are among the hardest of all currency items to collect. However, they can be earned by completing free offers such as daily events (seldomly), unlocking achievements, randomly earned in Silver Prize Pods or becoming a Minion of the Week (at least in the Top 1,000).
In Update 2.0.1., Tokens are still difficult to obtain, however, Tokens will occasionally spawn if all three fruits are collected in a level. However, Tokens usually spawn in an area that will usually result in dying. Tokens are also rewarded as part as daily gifts on random days, alongside Bananas and the Special Event item, such as Snowboards. In Update 2.7.1. (the April Fools Update), Tokens can no longer be collected after collecting all three fruits in a Jelly Lab level, due to the way the run now ends when all three fruits are collected or when a mission objective in a special event is completed. Due to this, Tokens are much rarer and only given to players in few ways, such as: found in a daily reward (on certain days and reward chain cycle), as one of the many rewards in a purchased or given prize pod, or via being purchased with real money. 
Gallery