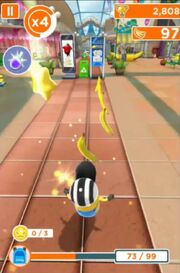 Stars (also known as Daily Stars) are unique items featured in Despicable Me: Minion Rush. They were introduced in update 2.7.1., otherwise known as the April Fools update. They are bright yellow stars, similar in appearance to the blue stars collected while on The Moon, and function similar to retired items known as Bapples. As part of the daily reward, the player's Minion must collect three stars during their run. After all three stars are collected, the player receives a BMX Bike to use in the future runs.
Trivia
Unlike Bapples, Stars are only collected daily for special event missions, and therefore do not appear in regular Jelly Lab runs, hinting their disappearance once a special mission is over.
Ad blocker interference detected!
Wikia is a free-to-use site that makes money from advertising. We have a modified experience for viewers using ad blockers

Wikia is not accessible if you've made further modifications. Remove the custom ad blocker rule(s) and the page will load as expected.