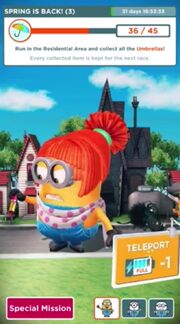 Spring is Back! was a Special Mission in Minion Rush that started May 6, 2015 as of update 2.8.1. By collecting Umbrellas, Flowers and Butterflies, players can earn Prizes including Tokens, Perks, Perk Prize Pods and the Jogger Minion costume. Like other Special Missions it introduced a new Prop mini-game called Minion Glider and is based on the scene in Despicable Me 2 where Stuart minion is pulled behind Lucy Wilde's car by his overalls and a makeshift parachute, with controls similar to Flappy Bird. Within the mini-game, the minion gathers bananas and special bananas (which equals 10 bananas) which can boost the Despicable Multiplier and the Special Mission items until the time runs out.
Trivia
Spring is Back! is the first special event not to introduce a new location, as it takes place in the Residential Area.
Ad blocker interference detected!
Wikia is a free-to-use site that makes money from advertising. We have a modified experience for viewers using ad blockers

Wikia is not accessible if you've made further modifications. Remove the custom ad blocker rule(s) and the page will load as expected.