"
Homespun spider silk. Fresh and 100% organic!
"
 

— The game description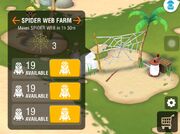 Spider Web is a resource made in Minions Paradise. It takes 1 hour and 30 minutes to produce spider web in the Spider Web Farm.
Appearance
If fully unlocked, three minions can make spider web together. When they are working, it can be seen that one of the minions is collecting web by a shuttle and another minion helps him carry away rolls of web, but they are too heavy and makes the minion almost unable to walk. The other minion plays the spider web on the tree and there's a giant spider on the web.
However, sometimes the spider falls on the face at the playful minion, and he screams and rushes around. Being horrified, one of his peers pick up a stick and hits the spider and the minion, with his eye(s) closed and also screaming, even though the spider gets back to the web afterwards. The victim minion has his colleague stop and throw away the stick. The other minion just laughs at what just happened.
Ad blocker interference detected!
Wikia is a free-to-use site that makes money from advertising. We have a modified experience for viewers using ad blockers

Wikia is not accessible if you've made further modifications. Remove the custom ad blocker rule(s) and the page will load as expected.