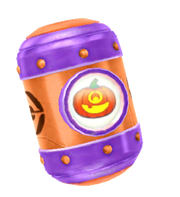 The
Special Mission Prize Pods
are items in
Despicable Me: Minion Rush
, and they often appear during
Minion Rush Special Missions
. Basically, special mission prize pods released in different missions are exclusively designed, even though many of the possible prizes in it are same.
They are usually available for 40 tokens, and once purchased, the prize can be Puzzle Pieces, Perks, Tokens, and Claw Savers. After Horror Night Party Special Mission, Blueprints replace Puzzle Pieces as a possible prize, and whatever the Stage 3 special items in any special missions can be also gotten in the pod.
Also, since Horror Night Party Special Mission, the prize for level 1 of the special mission is a special mission prize pod.
Ad blocker interference detected!
Wikia is a free-to-use site that makes money from advertising. We have a modified experience for viewers using ad blockers

Wikia is not accessible if you've made further modifications. Remove the custom ad blocker rule(s) and the page will load as expected.