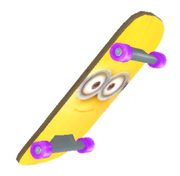 The Skateboard is a limited-time item featured in the Wedding Party Update for Despicable Me: Minion Rush.
In the update, players have the option to run in Minion Park and collect special items scattered throughout runs in order to help the Minions and celebrate Lucy Wilde's wedding party.
Appearance
The Skateboard is yellow with a face of a minion on it. It will only spawn in runs if the player earns them as a daily gift and activates them at the beginning of a run (if activated, three Snowboards will spawn randomly during a run), or pays Tokens at the beginning of a run to cause three of them to spawn randomly during a run.
When the Skateboard is used, the player's Minion will be warped into a running. The player can swipe the screen to move left or right to collect several needed items, which will spawn very frequently.
Trivia
It appears that skateboards are also be usable in in certain levels in Minion Park.
Ad blocker interference detected!
Wikia is a free-to-use site that makes money from advertising. We have a modified experience for viewers using ad blockers

Wikia is not accessible if you've made further modifications. Remove the custom ad blocker rule(s) and the page will load as expected.