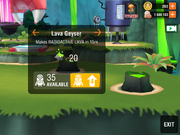 Radioactive Lava is a resource made in Minions Paradise.
Description
The player can produce Lava Geyser once unlocking Villain Lair. It takes 15 minutes to make lava, and once fully unlocked, six minions can work at the same time.
There are two types of reactions when minions produce lava: one is the minion rushes around and collect jumping lava drops with a bucket; the other one is the minion pours lava into the bucket with a ladle, sometimes the ladle is stuck and the minion tries to pull it out, but a big drop lava jumps to his back, so the minion yelps with pain and he stumbles, which also makes the minion bumps into the ladle and it falls to the ground.
Trivia
Unlike other resources, to make extra available place for minions to make lava, the player only needs to make some mix stuffs and turn in, instead of reaching certain level.
This is currently the only resource made in Villain Lair, and it isn't listed in "Make stuffs" in the menu.
When the pot of the lava isn't unlocked, it's empty; after being unlocked, the pot is full of lava.
Ad blocker interference detected!
Wikia is a free-to-use site that makes money from advertising. We have a modified experience for viewers using ad blockers

Wikia is not accessible if you've made further modifications. Remove the custom ad blocker rule(s) and the page will load as expected.