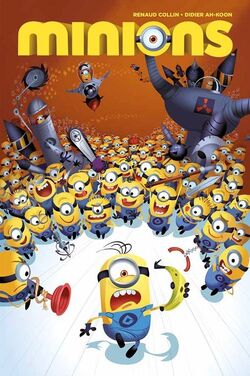 Minions is the title of an upcoming series of comic books and graphic novels that will be a tie-in to the Minions film and will be published by Titan Comics. Renaud Collin and Didier Ah-koon, animators on the movie, are listed as the artists/writers for the comic.
The first issue will be released on June 17, 2015, three weeks ahead of the film, and will be available in digital and printed formats. Four comic book issues, two digest collections, two hardcover editions and a paperback collection will be available.[1]
References
Ad blocker interference detected!
Wikia is a free-to-use site that makes money from advertising. We have a modified experience for viewers using ad blockers

Wikia is not accessible if you've made further modifications. Remove the custom ad blocker rule(s) and the page will load as expected.