Transcript Pages
This is a transcript for Meena Battle. Feel free to add contents to page as long as the information pertain to the article.
Battle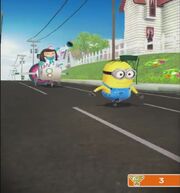 Meena: Special Delivery! Gru's stolen cookie-bots!
Meena: (drives faster, trying to hit the minion) Here's your order! (if her attack is unsuccessful) Hold still, banana Brain!/Hey, I'm just a kid!
Minion loses
Minion: Uh/Ah!
Meena: That's how the cookie crumbles!
Meena loses
Meena: AW! (her cart collapses)
Minion: Woo-hoo-hoo/Ha-ha-ha-ha-ha!
Meena: I'm telling my mom!
Ad blocker interference detected!
Wikia is a free-to-use site that makes money from advertising. We have a modified experience for viewers using ad blockers

Wikia is not accessible if you've made further modifications. Remove the custom ad blocker rule(s) and the page will load as expected.