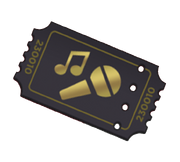 The
Market Ticket
is a type of currency that is used in the video game
Despicable Me: Minion Rush
; it is a limited time offer. Ticket Markets vary from different
Special Missions
, and an item collected in the mission gives a ticket automatically; in addition, when reaching the stage or a lap of the mission, the player can also be awarded with the tickets. The Market was introduced with the 4.2.0 update in December 2016. The Market Ticket can be used in the
Market
that is also available only during a special mission. The market is independent from the shop that is always available in the game.
Inside, some rare items such as a pack of Blueprints, Prize Pods, or Golden Tickets can be obtained by spending the Market Ticket, and these products can be bought in limited times - a number of stock indicates the limit. The Golden Tickets in the market, unlike those from pods, are for upgrading specific costumes instead of a randomly chosen one. Also, a costume can be on the market during a mission; for instance, in the Piggy Power mission, the Leotard Minion Costume was available for 5,000 tickets, along with Golden Tickets for improving the costume; in the Hunting For Love mission, the Athenian Minion Costume was available for 6,500 tickets. If the costume was previously bought, the stock shows "SOLD OUT!".
Gallery
Trivia
Market Tickets can't be directly purchased. The only way to get ones is to collect special items from the mission.
Unused tickets will vanish when the market is away after the mission. In the mission Piggy Power, however, remaining tickets could be converted to new tickets in the new mission, Hunting for Love.
Ad blocker interference detected!
Wikia is a free-to-use site that makes money from advertising. We have a modified experience for viewers using ad blockers

Wikia is not accessible if you've made further modifications. Remove the custom ad blocker rule(s) and the page will load as expected.