"
Growing... uhhh... boy-like... creatures need their strength.
"
 

— Madge Nelson gives an apple slice to

Stuart
Madge Nelson is a minor character in Minions, she is the wife of Walter Nelson. She and her family gave Kevin, Stuart and Bob a ride going to Orlando.
Plot
Minions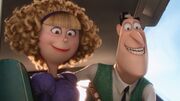 When Kevin, Stuart and Bob held the sign Orlando, she was the one to notice them and she called them cute, then let them have a ride where Bob sits in front with her, her husband and their youngest child while Stuart and Kevin are at the back with their elder children.
The Nelsons are a criminal family, as seen when they stole from the bank and wore mask when doing it. After Kevin and Stuart stopping the cops, they reached Orlando and departed the Minions. She, with her family were seen at the Villain-Con with Walter cheering for the minions when they successfully stole the ruby of Scarlet Overkill, after many failures. She was also seen once again with her family watching Scarlet getting the throne after Bob giving her the crown and making her the new ruler.
Ad blocker interference detected!
Wikia is a free-to-use site that makes money from advertising. We have a modified experience for viewers using ad blockers

Wikia is not accessible if you've made further modifications. Remove the custom ad blocker rule(s) and the page will load as expected.