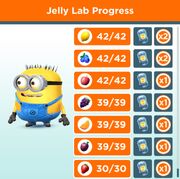 This is a complete list of Jelly Lab levels in the mobile video game Despicable Me: Minion Rush, sorted by areas. The objectives and prizes for completing each jelly machine are also listed.
Note that due to update and platform differences, the levels listed in this article are from the global mobile version of iOS and Android system; in some other game versions (e.g. PC, Chinese local), there may have large differences.
Symbols
Information
?
Level with fortune wheel - the location will change after each spin
(Random)
The location for a particular level will randomly change each time the player re-enters it
Item #1
In double-objective levels, different goals and the requirements are written separately
Item #2
All Areas
Ad blocker interference detected!
Wikia is a free-to-use site that makes money from advertising. We have a modified experience for viewers using ad blockers

Wikia is not accessible if you've made further modifications. Remove the custom ad blocker rule(s) and the page will load as expected.