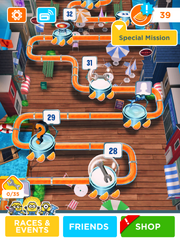 The Jelly Job is a secondary game mode existing in Despicable Me: Minion Rush.
Description
The jelly job was introduced in the 3.6.0 update, but it wasn't unlocked during the Special Mission until technical issues were fixed.
To activate Jelly Jobs, the player needs to access higher than level 50 of Jelly Lab. Once this requirement is achieved, there's a notice from Dr. Nefario (just like all special minions) about an issue, so the player needs to gain items (varies in different updates) by achieving goals in certain levels.
After the notice, the player can find those levels with jelly jobs, and their appearance is slightly changed - a transparent bubble surrounds the level with a floating item. By achieving the goal of originally the third fruit the player can collect the item. When there are enough collected items, a certain number of stamps can be obtained; when there are enough stamps, the player can be rewarded with prizes, such as Golden/Silver Prize Pods or Blueprint.
Gallery