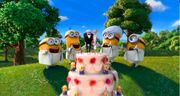 I Swear (sung in minion-speak as Underwear) is the song played at the wedding of Gru and Lucy, performed by the Minions. This appears in Despicable Me 2.
It is based on the version of the song, I Swear by either The Osmonds, O-Town or All 4 One.
Lyrics
(Dave speaks)

Ah lapoda. Talaki ma tollina, ah...

Laba dee pochi la nocha...

Dave:


Wu blana ki leji, phopapu se la nanee...

Underwear...Lakale lirei wee jille byah ,lako reh...


Chorus:


Underwear...Lapakreh leguari de la keh...


Lapeile...Underwear...


Laga di libeda eligwa...la gua reh


Lesho lieh tu, a keli


Le aholi du le gaso leala, underwear...


(Dave speaks)

Ladu, la amo dee underwear.

Videos
Ad blocker interference detected!
Wikia is a free-to-use site that makes money from advertising. We have a modified experience for viewers using ad blockers

Wikia is not accessible if you've made further modifications. Remove the custom ad blocker rule(s) and the page will load as expected.