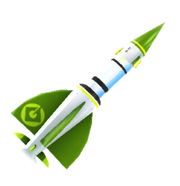 Gru's Rocket 
is an item in 
Minion Rush
. It is a green and white rocket that presumably belongs to
Gru
. It can be purchased once 
Dr. Nefario
 gives the player the goal to purchase it. After doing so, Gru's Rocket will randomly appear in runs. If the player's
Minion
runs into it, he will climb aboard the rocket as it dashes a great distance for 7 seconds.
The player can tilt the screen left and right to collect Bananas along the way. Gru's Rocket can be upgraded at the shop with the use of Bananas, however, each upgrade only increases the distance that the rocket takes the player's Minion when used. There is no upgrade that increases the time the rocket lasts in use. Because the rocket lasts 7 seconds (unlike most other items which last up to 14 seconds or more when upgraded) only, it is one of the shortest lasting items in the game. 
Gallery
Trivia
Occasionally when picking up the rocket, it will make no sound while flying and the player's Minion won't scream while riding it. 
Gru's Rocket, along with the Fluffy Unicorn, the Mega Minion and The Moon, occasionally will spawn right in front of an obstacle (due to the fact that they warp the player to a minigame, unlike other items). Therefore, if the player misses these items, it will result in crashing into the obstacle behind it and failing the run.
In Update 2.0.1. (the Jelly Lab Update), Gru's Rocket must be unlocked (if not unlocked previously) on level 13.
Unlike how the rocket flies over slides, the player will always be instantly dismounted from Gru's Rocket when nearing a secret/special area in their location. 
Upgrades
With the first row of upgrades the duration of Gru's Rocket can be increased to a total of 11 seconds.
The second row of upgrades adds a 250 meters bonus after each use per upgrade level.
Level 1
Level 2
Level 3
Level 4
Level 5
Orange Level Cost
and Ability
4,500 Bananas


(+1 second)


6 seconds
9,000 Bananas


(+1 second)


7 seconds
35,000 Bananas


(+1 second)


8 seconds
65,000 Bananas


(+1 second)


9 seconds
550 Tokens


(+2 seconds)


11 seconds
Blue Level Cost
and Ability
320 Tokens


+250 meters per use

320 Tokens


(+250 meters)


+500 meters per use
420 Tokens


(+250 meters)


+750 meters per use
550 Tokens


(+250 meters)


+1,000 meters per use
1,200 Tokens


(+250 meters)


+1,250 meters per use