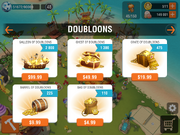 The Doubloons is a type of currency in Minions Paradise.
Doubloons are golden coins and there's a pirate-like minion skull sign and a pair of cross bananas carved on it. They are premium and precious currency and are much harder to be obtained than Sand Dollars and occationally appear in few occations.
They can be used to skip or buy many processes that originally needs time to be done, such as making resources and crafts, filling favors (completing party supplies), or unlock certain recreative locations. Doubloons are also able to be bought by real money.
Trivia
Doubloon was originally a kind of Spanish gold coins that was also available in several colonies of Spain.
Ad blocker interference detected!
Wikia is a free-to-use site that makes money from advertising. We have a modified experience for viewers using ad blockers

Wikia is not accessible if you've made further modifications. Remove the custom ad blocker rule(s) and the page will load as expected.