In a happy suburban neighborhood surrounded by white picket fences with flowering rose bushes, sits a black house with a dead lawn. Unbeknownst to the neighbors, hidden beneath this home is a vast secret hideout. Surrounded by a small army of minions, we discover Gru, planning the biggest heist in the history of the world. He is going to steal the moon. Armed with his arsenal of shrink rays, freeze rays, and battle-ready vehicles for land and air, he vanquishes all who stand in his way. Until the day he encounters the immense will of three little orphaned girls who look at him and see something that no one else has ever seen: a potential Dad. The world's greatest villain has just met his greatest challenge: three little girls named Margo, Edith, and Agnes.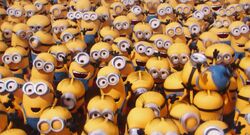 The Minions are small, yellow, cylindrical creatures, who have one or two eyes.
Minions love bananas and apples (or "bapples", as they call them), and the mere sight of one of these fruits can result in complete chaos. They also enjoy fine arts and find anything having to do with buttocks extremely funny. There are few things these little guys do not find funny.
They are fiercely loyal to Gru and Dr. Nefario, willingly helping with any evil plans, but at the same time they are friendly and fun-loving. Despite being relatively simple-minded, they are capable of building weapons, operating those weapons, using computers, and even driving.
Read more >
Are you looking forward to Despicable Me 3?

 

Minions' language, "Minionese" is simply several languages combined together. Though some of the words do have meanings.

In Despicable Me, Gru is forced to read the interactive children's book Sleepy Kittens. The filmmakers turned the fake book into a real children's story that was released around the world.

In Despicable Me 2, El Macho was originally supposed to be voiced by Al Pacino. Pacino recorded many of his lines, but a contract dispute caused him to leave production. The voice was then replaced by that of Benjamin Bratt's.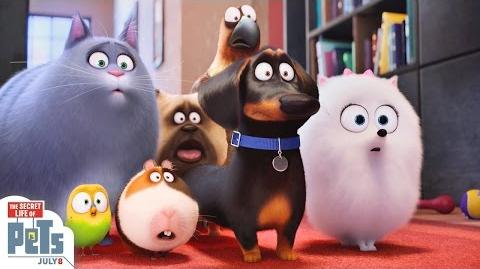 We are currently housing
531
articles, and
2,124
files.
We need YOUR help expanding and adding articles to the wiki!
---
---
If you're new to wikia, please use the above links to get started or ask the
Admins
of this wiki, and use the
Sandbox
first before editing an article. If you already have editing experience, and you have an article relating to the
Despicable Me
franchise to contribute, use the box below to create it:
---

Create blog post
Refresh
I'm Fabian and I'm new in "the house".

I play MR for a long time with much gusto =), but so far without a real community to share important news, informations and questions.

So now I hope I'm in the right community for this xD.

Has anybody of you finished them already ?

What are the gifts?

Are they the s…

Read more >

Since April 21th, Minions Paradise Wikia has been redirected to this wiki, as that wiki has been abandoned for a year due to the leaving of OsLoz, the founder of that wiki. Actually before the mergence, our wiki has created many contents related to Minions Paradise.

It's not the first time we merge …

Read more >
See more >