Despicable Me: Minion Rush
Talk

0
249pages on
this wiki
Despicable Me: Minion Rush

Information
Full Name
Despicable Me: Minion Rush
Developer(s)
GameLoft
Platform(s)
iOS
Android
Windows 8.1(v1.1.0 for Windows 8.1)
Release date
June 13, 2013 (iOS, Android)

December 29, 2013 (Windows 8.1)

Genre(s)
Platformer
Mode(s)
Single Player
Latest version
1.7.2
Latest update
March 25, 2014
Description
Description
Gru's loyal, yellow, gibberish-speaking Minions are ready for their toughest challenge in Despicable Me: Minion Rush. Read more
Despicable Me: Minion Rush (commonly known as Minion Rush) is a mobile action video game inspired by the Despicable Me franchise. It is part of the promotional campaign for Despicable Me 2.
Players play as Dave (The default character in the game) or other Minions and compete with others in hilarious, fast-paced challenges. Players can do various tasks like defeating villains to earn the title "Minion of the Year". The game also allows customization of the Minions.
As of version 1.6.0, players are able to upgrade every costume's special ability.
As of version 1.7.2, a new environment, mini-game and costume has been added in this latest update. Players can now discover the secrets of the Anti-Villain League secret base from Despicable Me 2, as well as new Power-Up which allows player to play the new Mission to the Moon mini-game, which is a nod to Gru's great lunar heist in the first Despicable Me, and the new Starfish Minion as the latest costume. In addition, players can now compete against another player in their respective country in the new local leaderboards, and participate in daily contests to win prizes, as well as revamped main menu that allows player to receive notifications for the upcoming events. |New in this version: works on all tablets, bug fixes...
Costumes
In Minion Rush, players can customize, buy and unlock different costumes.
Purchasable
Unlockable
Bosses
Locations
Power-ups
Currency
Gallery
Trivia
Videos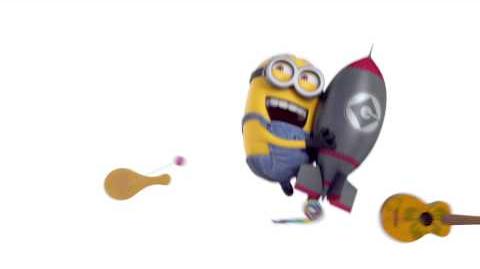 External links