Despicable Me: Minion Mayhem
Talk

0
197pages on
this wiki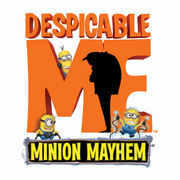 Despicable Me: Minion Mayhem is a simulator ride attraction now open at Universal Studios Florida and in 2014 to Universal Studios Hollywood. The attraction will be based on Universal Studios and Illumination Entertainment's 2010 animated film Despicable Me and it will employ the use of 3-D HD digital animation. The attraction will replace Jimmy Neutron's Nicktoon Blast which closed on August 18, 2011. The ride started doing testing on June 9.The ride opened on July 2.                  
Preshow
In the first preshow room, you get your minion goggles (Don't put them on yet) and watch a video. In the video, Gru introduces himself to the crowd, while Margo, Edith, and Agnes play around with the camera. Then a saftey spiel comes on, and then the crowd is escorted into the next preshow room.
Ride
The ride opens with the Minion-ized riders being sent down into the Minion training grounds. Midway through the training, the riders stumble upon a restricted area.  As the Minions are being rescued, Agnes loses her present and the riders attempt to retrieve her present. She succeeds but nearly gets crushed before being rescued by Gru. Gru presents the girls with a replica of Super Silly Fun Land.
Gift Shop
The gift shop known as Super Silly Stuff was opened on May 1, 2012, replacing the old Nickstuff store, that was originally part of Jimmy Neutron's Nicktoon Blast. The store is themed to the carnival Gru and the children visit in the original film.
Gallery