"
It's called a coup d'état, which is French for.. coup d'état.
"
 

— Carlos' betrayal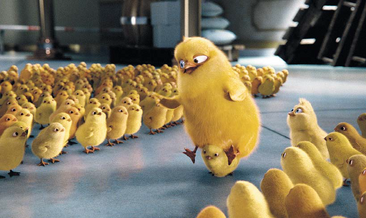 Carlos is the leader of the chicks, a supporting protagonist and later the main antagonist in Hop. He is voiced by Hank Azaria. Throughout the film, he is Mr. Bunny's right-hand chick, often accompanies him on tours of the candy factory. He is best friends-later-rivals with E.B.
Frustrated by the sovereignty of the Easter Bunny and his team of rabbits, Carlos has been serving as an assistant for years. But Carlos is sick of playing on his position. After all, Easter is all about eggs, so he intends to make chickens be in charge - replacing candy with the more fowl-acceptable birdseed, worms and lettuce cups, especially after the disappearance of E.B..
Gallery
Trivia
Ad blocker interference detected!
Wikia is a free-to-use site that makes money from advertising. We have a modified experience for viewers using ad blockers

Wikia is not accessible if you've made further modifications. Remove the custom ad blocker rule(s) and the page will load as expected.