Bob (formerly known as King Bob) is one of the Minions and the deuteragonist of Minions.
Appearance
Bob is a short and bald minion with multi-colored eyes (green and brown). He often carries around a Teddy Bear that he owns that he called Tim which is brown with yellow buttoned eyes.
Personality 
Bob is a minion who is more childish and immature than most. He is described as a "Little Brother" who finds love in anything and everything, including a rat he found in a sewer in the Minions film. He also enjoys bedtime stories and playing with his favorite stuffed teddy bear, Tim.
Plot
Despicable Me 2
Bob is auditioning for the film Minions along with Stuart and Kevin.
Minions
After begging Kevin finally lets Bob come on the adventure to find a new boss with Stuart. In the end, he was given a small crown for his stuff toy Tim but he gave it to Scarlett Overkill when she was frozen with Herb for she wants a crown.
Gallery
Videos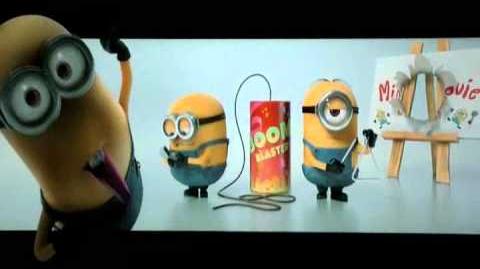 Trivia
Bob is currently the only minion shown to be heterochromic and bald.
Bob is one of the leading minions in Minions alongside Kevin & Stuart.
Bob is the youngest of Minions.
Bob is the only minion known to have become king at some point.

He is also the only minion to have become a court judge.

Bob bears some resemblance to Agnes Gru, which is why he is given a major role in Minions, along with Kevin and Stuart.