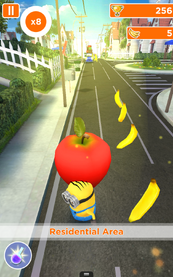 Bapples are former special items in Minion Rush, and they are giant red apples. Bapples used to play a major role in the game's daily events.
Three Bapples spawned with each daily event, and would appear in either one of the eight (from Gru's Lab to Super Silly Fun Land, which were all released before July 30th, 2014) locations, or would appear within an item such as the Fluffy Unicorn, Gru's Rocket, Mega Minion or The Moon. Once all three Bapples are collected, the player would be able to open a random metal pod for a prize. These prizes can include Puzzle Pieces or items such as permanent Banana Multiplier Perk, and Minion Launchers.
Bapples were retired after the version 2.0.1 update at July 30th, 2014, and are now replaced with fruit the minions must collect to make jelly at the Jelly Lab, which ironically include apples. As of the March 2015 update, Bapples were replaced with Stars, which the player must collect three of each daily, though Stars are also limited time items during special missions.
Trivia
The term "bapple" was first heard at the end the short Banana where a minion can be seen carrying an apple and calling it a "bapple" before taking a bite out of it after several other minions accidentally lose the banana by dropping it into a hole, prompting them to notice the bapple in that minion's hand and proceeding to pursue both him and his bapple. 
If the player happened to miss a Bapple in a particular item or location, it will respawn somewhere else in the location or the next time that item is used. 
When a daily event for Bapples begins, all items and locations the three daily Bapples are within will spawn more often than normal. 
In fact, all new locations in the game created after the Jelly Lab update don't have bapples, and they are: The Volcano, Vector's Fortress, The Arctic Base, Minion Park, Eduardo's house, Pier 12, The Pyramids, and Bratt's Lair.