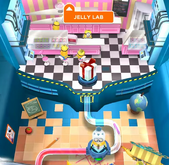 Back To School was a Special Mission from September 17, 2015 in Despicable Me: Minion Rush.
The special items were backpacks, notebooks, and lunch boxes; the main prize is the Grandpa Minion Costume, while the prop in this mission is the Scooter. The mission was held in The Mall.
Gallery
Ad blocker interference detected!
Wikia is a free-to-use site that makes money from advertising. We have a modified experience for viewers using ad blockers

Wikia is not accessible if you've made further modifications. Remove the custom ad blocker rule(s) and the page will load as expected.